2 Rows Weeding Machine
This paddy weeder applied to weed in rice field. It can replace the herbicide to reduce the environment pollution and avoid soil compaction. This paddy weeder has been a necessary tool for rice planting. The size is small size and the weight is light. It is easy to move and economical and practical.
Parameter
Items

Technical parameter

Model

WFW-2

Engine

Type

Petrol engine

Rated power

1.46 KW

Rated speed

6500 r/min

Machine Overall Dimension(L*W*H)

L1350×W540×H890 mm

Cultivating depth

10~20 mm

Working rows

2

Weeding Width

170mm×2

Number of weeding rake

6(Effective length 56 mm; depth 20 to 50mm)×2

Blade axle speed

186 r/min

Transmission mode

Middle shaft drive

Connection mode

Speed

2.79~4.30 hm/h

Efficiency

0.13~0.20 hm2/h

Weight

24 Kg

Package

Plywood box packing

Wooden box size

L860×W460×H460 mm

Gross weight

35 kg
Description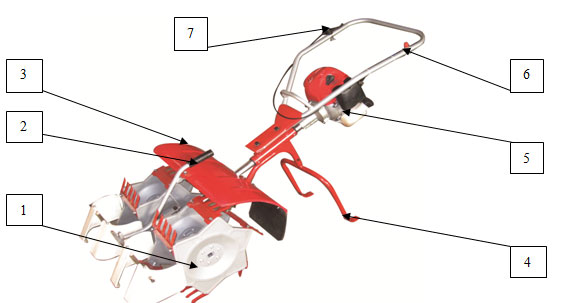 1. Working parts
2. Handle
3. Mudguard
4. Cradle
5. Engine
6. Switch
7. Throttle switch and throttle wire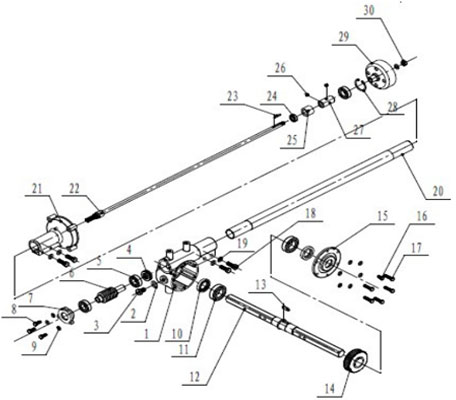 1. box 2. sealing ring 3. bolt M10×16
4. thrust ball bearing 5.deep groove ball bearing
6. worm 7. end cover 8. bolt M6×16 9. washer φ6
10. sealing ring 25×40×7 11. deep groove ball bearing
12. turbine shaft 13. flat key 6×22 14. turbine 15.cover 16. bolt M6×12 17. bolt M6×25
18. bolt M8×25 19. washer φ8 20. external casing 21. clutch sleeve
22. spline driving shaft parts 23. flat key 3×24 24.deep groove ball bearing 25. shock absorption set 26.tightening screw 27. limit set 28. hole fileφ35 29. clutch friction ring 30.screw M8
Use Maintenance
Whether the performance of paddy weeder is on the good condition will directly affect the work efficiency. The method of using and maintenance as follows.
1.Before using the paddy weeder, you must idle running a few minutes and check the lubricating oil. Clean up the sundries during work in order to avoid working parts damaging. The continuous working time should not be too long. Work one hour, rest 15mintues. After use, shut off the engine power, clean the machine completely, and then check the blade and vulnerable parts whether damage or loose. If necessary, maintain or replace it.
2.Maintenance by professional servicemen before first use every year.
3.The paddy weeder should be properly preserved if do not use the machine for long time. The machine should clean before storing, then put the machine on a dry place.

Fig.1: Filling engine oil from here(Please use the high temperature grease only)
Fig.2、3:Remove the screw and fill the high temperature grease (Filling high temperature grease by grease gun at the end of each working day)
Fig.4、5、6:Recommend to use the "GREATWALL" brand high temperature grease.
Solution
Common Faults

Fault reason

Solutions

Blade axis not turn or speed too low

Clutch slipping

Clean the oil pollution of clutch

Worm gear damage

Replace worm gear

Weeding effect not good

Blade wear or blade screw loose

Replace blades or tighten the screw

Worm gear box body temperature too high

High temperature grease too little

Fill or replace high temperature grease
Related Products
Get In Touch
Inquiry