25mm Lithium Pruning shear
This product is a battery-driven electric pruning shear comprises a fixed blade, a movable blade, lithium battery, battery charger, power cord, work vest, tool box and other components. Designed for cutting or trimming or less branches in fruit orchards, vineyards, etc. Simple and easy to operate, it also has 8-10 times the efficiency of traditional manual pruners. Pruning quality is significantly higher as compared to manual pruners.
Parameter
Basic information of electric

Operating voltage

16.8V

21V

Lithium battery

16.8V 2AH

21V 3AH

Charging voltage

AC110V~220V

AC110V~220V

Charging duration

1~1.5 hours

1~1.5 hours

Operating duration

3~4 hours

4~5 hours

Rated power

200W

200W

Max power

500W

800W

Shear weight

950KG

1000KG

Cutting range

Diameter

25mm(1 in) Vine branches

30mm(1.2in) Vine branches

Operating Temperature

14℉~149℉/ -10℃~65℃

14℉~149℉ / -10℃~65℃
Description
Product Components
1. Movable blade
2. Fixed blade
3. Latch pin
4. Trigger
5.Power switch
6.Lubrication hole
7. Electric Pruning shear's power input connector
8. Charging hole
9.Battery output connector
10. Release button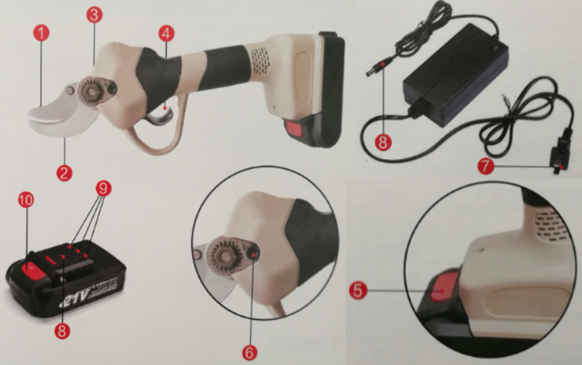 Use Maintenance
Usage and care for Pruning Shear
1. Do not cut branches beyond the specified diameter indicated, do not cut hard items such as metals, stone or any other non-plant materials. If the blades are worn or damaged, please replace the blades.
2. Keep the pruning shear clean, use a clean cloth to clean the pruning shear, battery and charger(Do not use any abrasive or solvent-based cleaning agent), use a soft brush or dry cloth to clean the dust on the pruning shear head.
3. Do not immerse the pruning shear, battery or charger in any liquid.
4. Follow instructions as given for proper use of the pruning shear.Do not use the pruning shear when the tool itself, battery or charger is damaged.
5. Do not use the pruning shear if it could not operate or shut down properly, send for servicing immediately. It is dangerous to use the pruning shear when the tool could not operate or shut down properly.
6. Please ensure the power pruner is powered OFF during any adjustment, changing accessories or storage. This protective measure aims to reduce the risk of accidental pruning shear activation.
7. Please ensure the blades are closed when not use, storage the pruning shear must keep out of reach from CHILDREN. Do not allow any person who is not familiar with the pruner operation or instruction to use the pruning shear, it is dangerous to use the pruning shear without proper training and understanding.
8. The use of the pruning shear must comply with instructions stated in this manual and methods of use as well as taking in considerations of the working environment and nature of work undertaken. The use of the pruning shear not within its stated capability and specifications is dangerous.
9. Remove all dirt from the moving and fixed blades after use. thereafter apply
lubricant on the blade side where both moving and fixed blade contact.This will ensure the blades are maintained in good conditions and reduce resistance during use prolonging the pruner and blade lifetime.
Solution
Buzzer Sound

Frequency Times

Failure

Solution Method

1

Battery capacity failure

Check if battery capacity is low

2

Communication failure

check if every part of cable connector is loose

3

Blade failure

Oil on blade

4

Motor phase loss

Send it to local dealer For maintenance

5

Motor phase line short-circuit

check if cable or head of the connector

has short-circuit caused

Buzzer continuous ringing

Safety warning

Check whether body contact to the blade
Related Products
Get In Touch
Inquiry