30mm Diameter Lithium pruning shear
This product is a battery-driven electric pruning shear comprises a fixed blade, a movable blade, lithium battery, battery charger, power cord, work vest, tool box and other components. Designed for cutting or trimming or less branches in fruit orchards, vineyards, etc. Simple and easy to operate, it also has 8-10 times the efficiency of traditional manual pruners. Pruning quality is significantly higher as compared to manual pruners.
Parameter
Basic information of electric

Operating voltage

16.8V

21V

Lithium battery

16.8V 2AH

21V 3AH

Charging voltage

AC110V~220V

AC110V~220V

Charging duration

1~1.5 hours

1~1.5 hours

Operating duration

3~4 hours

4~5 hours

Rated power

200W

200W

Max power

500W

800W

Shear weight

950KG

1000KG

Cutting range

Diameter

25mm(1 in) Vine branches

30mm(1.2in) Vine branches

Operating Temperature

14℉~149℉/ -10℃~65℃

14℉~149℉ / -10℃~65℃
Description
Product Components
1. Movable blade
2. Fixed blade
3. Latch pin
4. Trigger
5.Power switch
6.Lubrication hole
7. Electric Pruning shear's power input connector
8. Charging hole
9.Battery output connector
10. Release button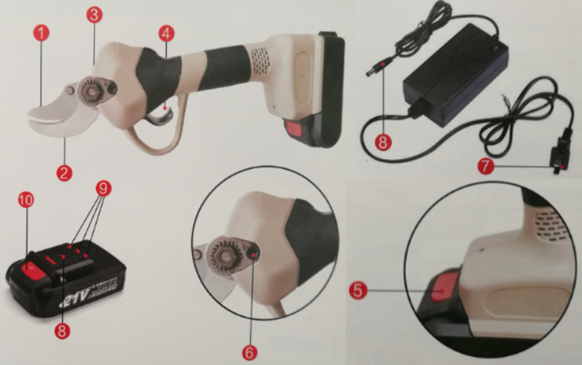 Use Maintenance
When the moving blade no longer crosses the fixed blade throughout its length, or when the power pruner could no longer have a clean cut after grinding, blade replacement is recommended with the following steps:
1. For safety, before replacing the blade, please ensure the pruning shear is power OFF and power cable disconnected from the battery.
2. Refer to the diagrams below on the procedure to replace the blade.
3. Clean up the blade after replacing, connect to power cable to battery, power ON to test the blade, close up the blade to complete the whole procedure.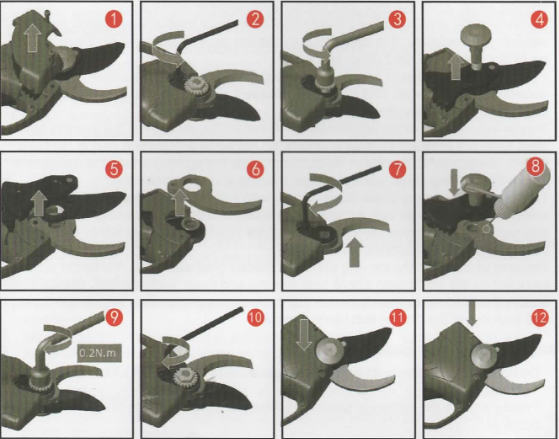 Solution
Buzzer Sound

Frequency Times

Failure

Solution Method

1

Battery capacity failure

Check if battery capacity is low

2

Communication failure

Check if every part of cable connector is loose

3

Blade failure

Oil on blade

4

Motor phase loss

Send it to local dealer For maintenance

5

Motor phase line short-circuit

Check if cable or head of the connector

has short-circuit caused

Buzzer continuous ringing

Safety warning

Check whether body contact to the blade
Related Products
Get In Touch
Inquiry